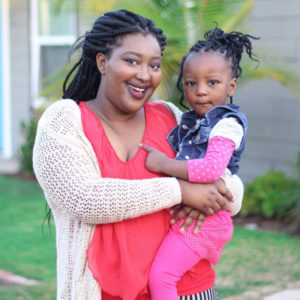 Merveille spent four years in a Congolese refugee camp before fleeing her war-torn homeland for the U.S. with her mother at the age of 11. With her relationship with her mother deteriorating, Merveille found herself in foster care two years later. Now 20, she has been at the Launch Pad for a year and a half and has made great strides thanks to her perseverance and the support of her "flight crew" team of volunteers. (i.e. parent coach, mentor, tutor and budget coach)
Merveille enrolled in cosmetology school and obtained her license in June 2017, and now has a full-time job at the salon where she's been working part time as an apprentice. Her daughter, Faith, is enrolled in pre-school, and Merveille is better equipped as a parent thanks to the tools she gained from her parenting coach. Also, with the help of her driving and budgeting coaches, Merveille obtained her driver license and purchased her first car. She has also grown spiritually through her involvement in a community study held at the Launch Pad and led by a former Launch Pad resident along with a long-time volunteer leader.
Merveille has begun her final stages at The Launch Pad where she has been saving for housing, insurance, establish credit and preparing herself to "launch" this month. She is a beautiful reminder of what Launch Pad residents are capable of achieving with intentional support and mentoring.